The most effective way to lose weight and gain your health!
YourBodyCode.com is an online diet and nutrition program that is customized to each individual to enable to you to lose weight, gain your health and build healthy muscle all while actually enjoying what you eat.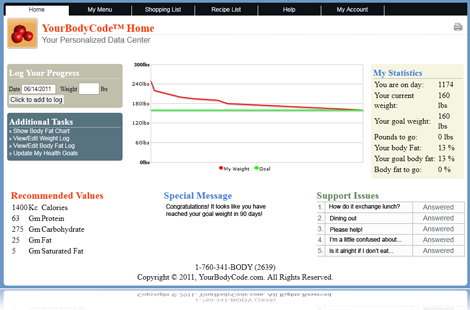 YBC Blog
5 steps to avoiding dehydration this summer
Working out, summer heat and cramping - 5 steps to avoiding the issue1. Avoid dehydration which can prompt leg cramps - drink 64 ounces of water a day - more if your working out in the heat. Remember your body can handle 15 liters of fluid per ...
Victory Stories
Cecilia Pasos
Approximately two years ago I decided to go see Dr. Amanda Beckn...
Shannon Bedard
Shannon (left with her husband) was diagnosed with adrenal Cance...
DNA-Diet Nutrition & Attitude™
Your Body Code is a personalized nutrition, fitness and wellness program that is tailor made for the client to give you your individual code to burning fat, gaining muscle and re-gaining back your health. continue reading

Dr. Amanda Beckner
I have spent the last 20 years restoring health and wellness to thousands of people using common sense and scientific nutritional methodology!